We've joined forces with Secureframe to help companies get PCI Level 1 certified in weeks.
We're providing the fastest and simplest path to PCI Level 1 certification
Eliminate and streamline
over 95% of the effort
to become PCI compliant when you use both
Secureframe
and
Basis Theory
.
Get in touch to learn more
How do Basis Theory and Secureframe help?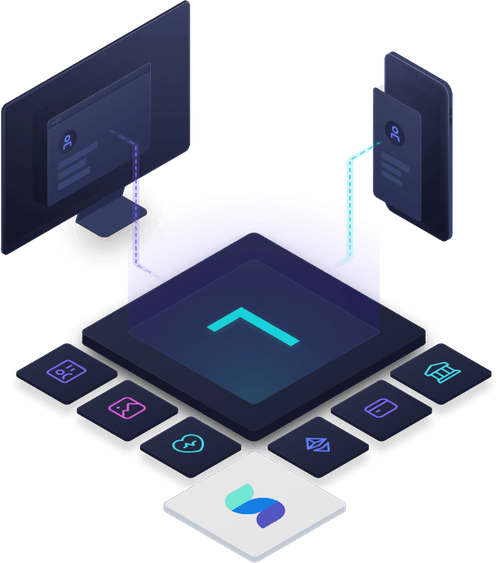 Instant cardholder environment
Secure card data within
Basis Theory
and skip the decisions, resources, and configurations of building and maintaining an in-house cardholder environment.
Streamline the PCI compliance process
Secureframe
is the leading, all-in-one security and privacy compliance automation platform. Secureframe simplifies the PCI process into a few key steps by automating technical evidence gathering through integrations, automated tests, policy templates and more to meet operational controls, saving you hundreds of hours.
Enjoy faster, cheaper audits
Accelerate your time-to-certification even more with turnkey audits conducted by QSA partners familiar with
Secureframe
and
Basis Theory
implementations.
Why Basis Theory?
Go beyond compliance and security. Get complete control over your card data without the ongoing costs and risks of building and maintaining your own PCI infrastructure and program.
Build your ideal payment infrastructure
Tailor your tokens, routing services, and embedded forms to meet your unique needs.
Gain continuous compliance and security
Protect your data and compliance posture with systems designed and maintained by experts.
Control access and permissions
Set and enforce security, compliance, and risk policies on your sensitive data that align to existing access policies.
What is tokenization, and how does it help PCI compliance?
Replacing card data with tokens in your environment significantly reduces or eliminates PCI compliance scope and reporting requirements, helping you bypass the costs and risks of storing it yourself.
Basis Theory goes a step further, providing developers the infrastructure, tokens, and services needed to use card data like plaintext.
Tokenizing credit card data for PCI Compliance
Developer and business-friendly
Convert customers with customizable and embeddable forms
Unlock new partnerships, products, or customer experiences with configurable token properties
Save time and money by managing your implementation as code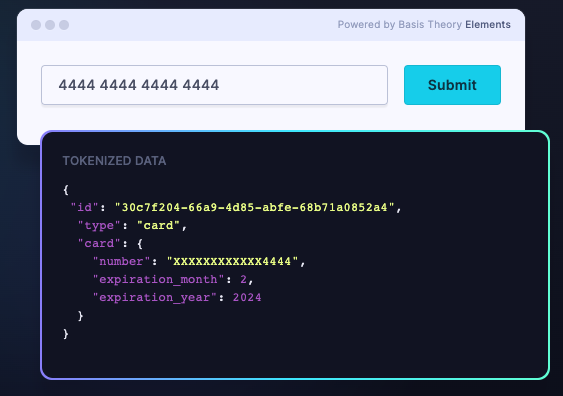 Ready to try Basis Theory?
Create an account and start right away.
Want more information? Reach out to us.